Regular price
Rs. 2,100.00
Sale price
Rs. 800.00
Unit price
per
-61% OFF
Sold out
IRON LIFTERS L-Leucine Powder For Builds Lean Tissue
PRODUCES ENERGY: Valine, Leucine, and Isoleucine make up one of the chains called Branch Chain Amino Acids. They make up a large amount of the body's total protein structure. Leucine is one of the main ways that the body is able to produce energy.
100% Pure L-Leucine - Muscle Recovery and Support
L-Leucine is a highly researched amino acid and proven to be extremely effective for stimulating skeletal muscle protein synthesis. Leucine is a branched-chain amino acid that is sold as a supplement. It increases energy and protein therefore, muscle production.
Find the strength inside with our expertly formulated Essentials line.
You may consume protein supplements for muscle building, endurance, and instant recovery, but, are you taking adequate LEUCINE?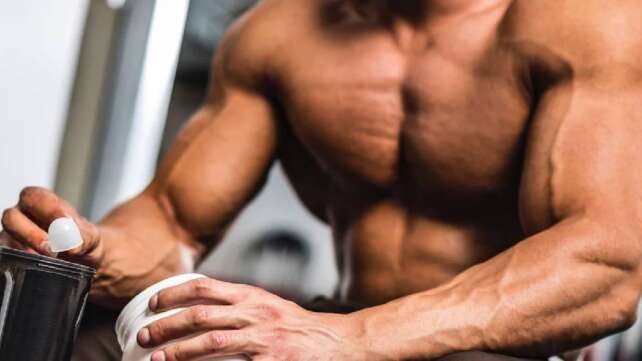 Leucine is one of the 9 essential amino and 3 branched-chain amino acids which you have to take from your diet but you may miss the adequate quantity because the amount of leucine may vary so supplement is necessary if you are a serious fitness enthusiast. That's why IRON LIFTERS brings 100% pure pre-workout post-workout L LEUCINE supplement stimulus in protein synthesis, promoting muscle recovery, building muscle mass, gaining muscles and preventing muscle wastage.
Essential for achieving a positive nitrogen balance

Support healing of injured tissues

Healthy functioning of the liver and nervous systems.

Building lean musclemass

Stimulates Protein Synthesis

Preserve Lean Muscle Mass

Promotes Muscle Recovery

May help to build and maintain lean tissue
Increase in Muscle Mass and The Prevention of Catabolism
Leucine, along with isoleucine and valine, is one of the three branched chain amino acids (BCAAs). Out of all of the other amino acids, leucine is the most potent activator of protein synthesis. Cells are able to sense leucine levels, and in response turn on protein synthesis via the enzyme protein mammalian target of rapamycin a master-regulator of protein synthesis. Leucine supplementation is very important for the increase in muscle mass and the prevention of catabolism in all sports. it is an indispensable support to counteract muscle catabolism and the feeling of fatigue. Used after physical exercise, it promotes the healing of muscle fibers, guaranteeing less damage and muscle pain, better recovery and greater resistance. It also has ketogenic activity, meaning that it becomes an energy substrate in keto genesis processes.
The Strongest Amino Acid Supplement For Muscle Growth – L-Leucine!
Although there are many supplements that can enhance your training, yet one deserves special attention: L-leucine. This could be one of the most important nutrients for both mass gains and preservation. Supplementing with it could dramatically change how you workout.
3 Main Health Benefits Of IRON LIFTERS Leucine Powder
Muscle Building: 
| | |
| --- | --- |
| Leucine stimulates a signalling pathway that leads to the synthesis of new muscle proteins. Increasing muscle protein synthesis keeps you in a state of positive nitrogen balance — this is where you want to be if you're trying to build muscle mass. leucine supplementation lead to greater gains of lean muscle mass and total body mass compared to those who weren't taking leucine. | |
Preventing Muscle Breakdown:
| | |
| --- | --- |
| Now, the majority of us don't train 365 days a year. It's natural and necessary to have periods away from training — whether attributed to injury, illness, or simply giving your body a rest. During these recovery periods, we want to avoid losing the muscle mass that took months of hard work to build. Luckily, leucine could help us out here. this is when muscle breakdown is greater than muscle building. leucine is capable of preventing muscle breakdown. | |
Can Improve Immunity
Leucine could play a beneficial role in the immune system. During an immune response, your body activates T cells, which help fight off harmful bacteria and microorganisms. Activation requires the same mTOR signalling pathway as before, but this time it's being used to regulate T cell function — basically ensuring they're ready for a germ invasion.
Features:
| | |
| --- | --- |
| Brand | IRON LIFTERS |
| Format | Powder |
| Material feature | Gluten Free, Sugar Free |
| Product benefits | Muscle Growth | Immune Support |
| | |
| --- | --- |
| Flavour | Unflavoured |
| L-Leucine | 3 g |
| Fat | 0 |
| Total Sugar | 0 |
 Premium Quality Assured & German Certified
Share
View full details
Most important suppliment to recovery
I got your product genuinely nice and good product this product very important to my body test was really good
We are incredibly grateful that you took the time out to leave us a 5-Star review.
Verygood
This product is very good for building muscles. It helps to reduce muscle breakdown and gives a good result. Very good product for every bodybuilder.
we thrilled to receive such great rating, thank you.
it is too good
it is working too good but taste is not good
Thank you for your review.
Good product
Good Product?? This is my 2nd purchase from Ironlifters nutrition !
It helps improving muscle recovery time & has a better result.
Thank you Iron Lifters & Team for this product and on time delivery!????
we're happy to see that you had a 5-Star experience at Iron Lifters
The Best Form of leucine
Some may hate the taste but this is the Best original Form of leucine giving fast results currently in market.. Wishing this brand more Growth in future..
We Look forward to seeing you again soon. Best Wishes.